Archives for March 2015
Our TFcon Toronto hotel has changed it's name to the Hilton Mississauga/Meadowvale, all hotel reservations will remain unaffected.
A second hotel block has been added to accommodate the huge demand for this event. Thanks to everyone for your support! You can book your room at the at the Four Points by Sheraton Mississauga Meadowvale, 2501 Argentia Road, Mississauga. Guests may either call the reservation centre at 1-800-684-6424 and request to receive the preferred rate for the convention or click on the link below to book your room online.
https://www.starwoodmeeting.com/StarGroupsWeb/res?id=1503134369&key=1216056E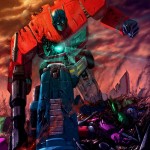 We are pleased to announce that Transformers comic book artist Livio Ramondelli will be a guest at TFcon Toronto 2015. Livio is known to fans for his work on IDW's Transformers comics including Transformers #24, #26, #28,and #30; The Transformers: Autocracy, Monstrosity, Punishment and Primacy; Transformers: Robots in Disguise #6, #10, #17, #21, #22, #24–26 as well as Transformers: More than Meets the Eye #23–27. He will be selling prints and offering commissions to attendees all weekend long.