Updated Exclusives Info Coming Soon!
---
AXIS
ALLEGIANCE: Destrons
FUNCTION: Night Ambush General
Profile: Forged from the same C-14 Body Type as SHAFTER, this CON of the night is fully upgraded for battle. There is not many Destrons hiding on Planet Zone, but AXIS is one of them, and you won't find him, he will find you. Many bots have lost their sparks to this hunter of the night. The further you get from ZONE BASE, the more likely you won't be returning as AXIS is hiding in the shadows, waiting for his chance to strike. He has been in the Great War for many years and changed his body mutliple times to keep up. His side arm blasters let off a quiet energy pulse that puts most Seibertrons out for the count, then uses his TUYO gun to finish the job. Some bots say he trained under DIESEL for many years before breaking out on his own.
Abilities: Metallikato, Circuit-Su and Crystalocution just to name a few of the name arts of taking out one's enemy that AXIS is a practitioner off.
Weaknesses: He can't resist a challenge, and with a big mouth like SHAFTER calling him out of his comfort zone and into the bright lights of ZONE BASE, he is putting himself at a disadvantage.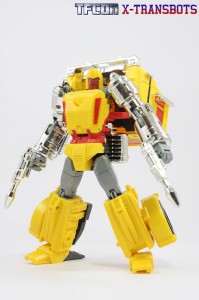 MASTERPIECE SHAFTER
ALLEGIANCE: Seibertrons
FUNCTION: Construction Engineer / Hero of Timelines
Profile: It's been a long and hard road for SHAFTER. Travelling from one time stream to another, visiting one "Animated" world, another "Primed" for action, while keeping one at "Bay" so that the powers that be don't spill over into each other. SHAFTER has been changing and engineering a new body for himself to match his surroundings. He has seen some crazy stuff, and somehow his spark still keeps it all together. Cool, calm and collected, Shafter a real ladies' bot, but if you cross him, you might end up on the receiving end of his CRAGUN; a chromed out pistol that while might be small, packs enough punch to take out even the most aggressive Destron. He currently is carrying a rivalry with DARK RIDER, the only Destron to sport the C-14 body type.
Abilities: Back in the early days on his home planet, SHAFTER was originally considered for the HERCULES sub-group due to his amazing body re-engineering skills and some even rumor he might have helped with the early concepts of combiner technology. A not commonly known fact about SHAFTER is he actually has a yellow belt in Jet Judo…. or as he likes to call it, knocking down anything in the air.
Weaknesses: Going from Bulk to Micro-Bot and back again, SHAFTER always thinks he is top spark in the Oil House, but as a result, he tends to get himself in all kinds of situations he ain't built for, specially when he is the one doing the building.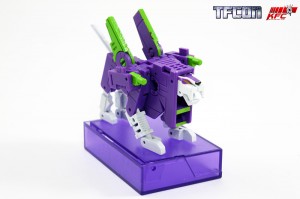 PESTILENCE
One of the many drones created by TOXIN to watch his skidplate while he plots something bigger then his fellow Destrons can ever understand. PESTILENCE much like the cyber laser he was forged from, is fast, exact and sharp. When many of these units are together, their AI become one and try to work as a team to destroy their target. Wearing 2 turbo boots on each side of it's super structure helps PESTILENCE get that jolt of speed needed to knock-down it's prey before snuffing out it's spark or dragging it's shell of a body to TOXIN for some experiments. Due to it being a drone, it's not used to unique situations or bots that are straight up unpredictable. While in groups, their AI will try to work together, but also makes all surrounding units function in a similar fashion, making the pack as a whole very easy to read.