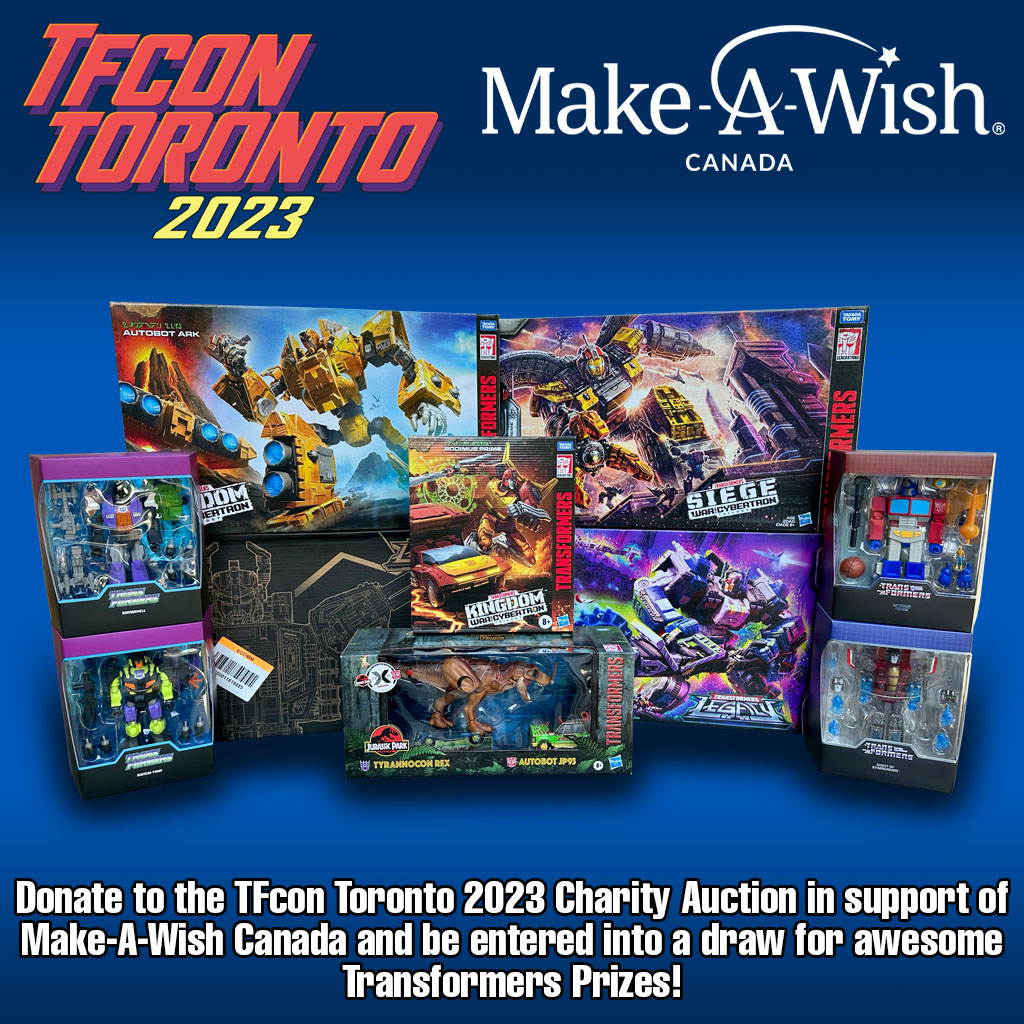 We need YOUR help!
Donate your extra toys to the TFcon Toronto 2023 Charity Auction in support of Make-A-Wish Canada.
We strongly rely on donations from fans like you to make this auction a success.
If you wish to donate an item for the auction please bring the items with you Friday, July 14th.
For those that donate, you will receive one entry into a draw of your choice for the following prizes:
-Kingdom Titan Class Autobot Ark
-Titan Class Black Zarak
-Titan Class Omega Supreme
-Legacy Titan Class Metroplex
-Jurassic Park Mash-Up Tyrannocon Rex & Autobot JP93
-Kingdom Leader Class Rodimus Prime
-Super 7 Optimus Prime, Bombshell, Banzai-Tron and Ghost Starscream
For every 1 item donated, you will receive one entry for the draw of the item of your choosing.
Example: If you donate 10 items you will receive 10 entries.
If you donate 50 items you will receive 50 tickets.
Donation guidelines:
Transformers items such as action figures, comics, games, statues, and artwork are strongly suggested.
But donations from any property are welcome.
New or loose and complete figures are accepted.
If you are donating loose action figures please make sure they are individually bagged and complete.
Vintage toys and toy lots are also welcomed.
Giveaway tickets will be issued based on the discretion of the TFcon staff based on the items donated.
We also ask that any comics donated should be bagged and boarded.
Any clothing or plush toys should be in new with tags condition.
While almost all items are welcome for donation, we will kindly decline "Free Comic Book Day" comics, other free promotional items, and vintage sports figures and memorabilia as donations.
You can make a donation to the auction online at https://makeawishca.donordrive.com/index.cfm?fuseaction=donorDrive.personalCampaign&participantID=28088