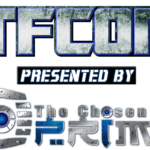 TFCON SECURES PRESENTING SPONSOR THROUGH THE CHOSEN PRIME
Leading Collectable Dealer Teams Up with the World's Largest Fan-Run Transformers Convention.
Toronto, ON. TFcon is pleased to announce that its 2017 show program will be presented by The Chosen Prime. As the 'Platinum, Title and Presenting Sponsor' for TFcon, The Chosen Prime will receive a myriad of branding, benefits and rights including an oversized activation space on the main exhibitor floor inside the Hilton Mississauga/Meadowvale Hotel and Convention Centre along with contest programming during multiple events, hospitality and enhanced VIP access to celebrities, other guests and programs plus the ability to renew its package for 2018.
"The Chosen Prime is ecstatic to support TFcon as its presenting sponsor," says Founder, Owner and Operator, Brandon Weik. "For us, it is a natural fit and extension of our own business and brand, which caters to Transformers fans and collectors worldwide…we couldn't be happier!"
Recently, TFcon announced that voice actor Scott McNeil will be presented by The Chosen Prime and that autographs and photographs will be complimentary for all tickets holders as a result. Known to fans as the voices of Waspinator, Dinobot, Rattrap, and Silverbolt in Beast Wars, McNeil is a welcome addition and highly desired guest amongst fans to this year's show. Furthermore, Michael Bell; the voice of Generation 1 Prowl, Sideswipe and Swoop will also be presented by The Chosen Prime. Both McNeil and Bell will be taking part in Q&A panels and autograph sessions throughout the show all weekend long.
Providing collectors around the world with products they desire while defining a new standard in quality and service, The Chosen Prime is a leading collectable dealer specializing in transforming action figures from Takara, Hasbro and third party creators. For more information, please visit www.thechosenprime.com
"We are thrilled to partner with The Chosen Prime," says General Manager Colin Douglas. "Their excitement and interest in supporting the show over the years and going forward will help us drive an exceptional program for fans in 2017."
TFcon is presented by The Chosen Prime.
*30*
Jeremy Renaud
Marketing, Sponsorship & Public Relations Coordinator – TFcon
Phone: 519.566.1735 I Email: jeremynrenaud@gmail.com
About TFcon: As the world's largest fan-run Transformers convention, TFcon is an all-ages event, featuring collectables, exclusives and popular guest celebrities and voice actors who contributed to generations of fandom, lore and mythos belonging to the Transformers universe. The colossal event will take place inside Hilton Mississauga/Meadowvale Hotel and Convention Centre (6750 Mississauga Rd.), July 14-16, 2017. For more information, please visit: www.tfcon.ca